'If the bee disappeared off the surface of the globe, then man would only have four years of life left. No more bees: no more pollination, no more plants, no more animals, no more man.' - Albert Einstein


Het 'einde der tijden' is al even vaak voorspeld als dat deze voorspelling geen waarheid is geworden. Onheilsprofeten zijn van alle tijden. En volgelingen die blind achter deze onheilsprofeten aanhollen eveneens.


Zelf ben ik van nature eerder een beroepsoptimist dan een doemdenker. Maar desalniettemin geloof ik dat de westerse beschaving zoals wij deze kennen wel eens op haar laatste benen zou kunnen lopen. Als je een aantal ontwikkelingen met een helikopterview bekijkt, dan zou de ondergang van onze beschaving wel eens akelig dichtbij kunnen zijn. De wijsheid of deze ondergang gaat samenvallen met een apocalyptisch 'einde der tijden' heb ik niet. Maar dat we een zeer turbulente periode tegemoet gaan lijkt me hoogst waarschijnlijk.


'De Ongemakkelijke Waarheid' van Al Gore, het 'ploffen' van ons financieel systeem, de mysterieuze Maya-kalender en jaartal 2012, het moslimfundamentalisme en het bijenmysterie. Ogenschijnlijk losstaande onderwerpen; maar hoe divers deze ook lijken te zijn, er is een grote gemene deler: het zou wel eens heel onrustig kunnen gaan worden…


Vandaag neem ik de rol van klokkenluider op me en luid de bel voor de laatste ronde.
Luistert en huivert.

An Incovenient Thruth


Onheilsprofeten: Al Gore, Milieubeweging.


In de documentairefilm 'An Inconvenient Truth' van Al Gore wordt ingegaan op de effecten van de opwarming van de aarde. In de film is een kaart te zien waarop half Nederland onder water staat. Interessant hierbij is dat het niet zozeer in een verre toekomst plaatsvindt maar dat mijn generatie het nog mee gaat maken. Op de nieuwe kaart van Nederland is de complete randstad getransformeerd tot nieuw Atlantis. En met een beetje geluk ligt mijn woonplaats Veldhoven precies aan zee. Ik laat de bordjes 'Zimmer Frei' alvast maken.
| | |
| --- | --- |
| | Opwarming van de polen. |
De documentaire probeert op indringende wijze de gevolgen van de klimaatverandering inzichtelijk te maken.
Maar de grote vraag is natuurlijk: is het waar?
Mijn intuïtie zegt dat het zomaar zou kunnen. Want even los van discussie over de precieze oorzaak van het broeikaseffect, in de wetenschap lijkt een redelijke consensus te bestaan over de gevolgen daarvan.
Als de ongemakkelijke waarheid van Al Gore ook waarheid is, dan steken we natuurlijk wereldwijd allemaal onze kop in het zand. Maar als het waar is dan vrees ik dat het proces wel eens onomkeerbaar zou kunnen zijn. Op de site over de film staat een rake quote van Upton Sinclair: 'It is difficult to get a man to understand something when his salary depends upon his not understanding it.'
Ik betwijfel of er tijdig voldoende milieuvriendelijke alternatieven zullen zijn om onze levensstandaard te kunnen handhaven. En of 'wij' bereid zijn om ons luxe leventje, de vliegreizen, de auto, de twintig paar schoenen, opzij te zetten om de aarde te redden? Ik heb daar mijn twijfels over.




De Mayakalender en 2012


Onheilsprofeten: de Maya's, diverse oude natuurvolken en de Oude Egyptenaren.


De Maya's: een beschaving uit Centraal Amerika omgeven met de nodige mystiek. Zo is het tot op de dag van vandaag voor wetenschappers een raadsel waar de Maya's hun gedetailleerde informatie over sterrenstelsels vandaan hebben. De Maya's, ook wel bekend als de 'bewaarders van de tijd', staan ook bekend om hun diepgaande kennis van de tijd. De maya's kenden meerdere cycli en hebben ook meerdere kalenders. Deze kalenders zijn zelfs gezien vanuit modern wetenschappelijk perspectief zeer geavanceerd te noemen. Volgens de kalender met de lange telling, die een cyclus van 26.000 jaar omvat, eindigt op 21 december 2012. de 'vijfde wereld'. Aan deze gebeurtenis worden grote veranderingen gekoppeld en de mensheid zal dan overgaan naar een 'hoger (bewustijns)niveau'.


Nu wordt het hele 2012-verhaal hier in het Westen nog niet al te serieus genomen. Maar is juist de arrogantie van een beschaving die zichzelf superieur acht boven 'achterlijke culturen' niet vaker het begin van het einde geweest in het verleden!?


Interessant is dat in de oude Maya-profetieën grote natuurrampen voorspeld zijn in aanloop naar 2012. En met een forse toename van orkanen als Katrina, de Tsunami, etc. lijkt deze voorspelling in elk geval bewaarheid te worden.
Fascinerend is dat het jaartal 2012 niet alleen opduikt bij de Maya's, maar ook naar voren komt bij de Inca's en een groot aantal indianenstammen (Hopi, Sioux, Pueblo, etc.). Ook is er een link met de beroemde 'ziener' Nostradamus, het Chinese I Ching orakel en voorspellen de oude Egyptenaren in 2012 een grote vloed die de aarde vrij zal maken.
Allemaal toeval?


De aanloop naar 2012 loopt parallel aan de overgang van het Vissentijdperk naar het Watermantijdperk. Als Waterman zie ik dit nieuwe tijdperk met een gezonde nieuwsgierigheid tegemoet (eerlijk gezegd weet ik amper wat het Watermantijdperk inhoudt maar ik vond het in de context van dit stukje wel interessant klinken).




Financiële wereld staat op instorten?!


Onheilsprofeten: Willem Middelkoop (journalist), Alan Greenspan (voormalig voorzitter van de FED), Rienk Kamer (bearish beleggingsgoeroe).


Ons financieel systeem staat op de rand van instorten?! Althans, als we financieel journalist Willem Middelkoop mogen geloven. Willem Middelkoop, onder meer auteur van het boek 'Als de dollar valt', spreekt niet zozeer van of ons financiële systeem zal ploffen, maar wanneer.


Ik vrees dat Willem Middelkoop het wel eens bij het rechte eind kan hebben. Ik geloof hem alleen al omdat hij als één van de weinigen in de financiële wereld tegen de stroom in durft te gaan en de situatie benoemt. Historisch gezien vallen alle geldsystemen vroeg of laat om en wellicht is ons systeem nu aan de beurt.


Vorig jaar heb ik voor het eerst mijn spaargeld vrij rigoureus van de aandelenbeurs teruggetrokken. De sussende geluiden omtrent de kredietcrises in de VS deden bij mij alarmbelletjes rinkelen. Als ervaren huis-tuin-en-keuken-belegger weet ik inmiddels dat wanneer deskundigen/analisten iets te hard gaan roepen dat er geen reden is tot zorgen is, dat juist tijd wordt om je zorgen te gaan maken.


Naar mijn idee is er al lang geen verband meer tussen de economische werkelijkheid en de financiële markten. De beurzen worden geregeerd door hebzucht en angst en zijn meer een door psychologische processen gedreven rad van fortuin dan een reële weerspiegeling van de stand van de economie. Analisten 'mogen' dit met oog op stabiliteit natuurlijk niet te hard roepen: Ons hele geldsysteem is immers gebaseerd op vertrouwen. De dag dat iedereen naar de bank gaat om zijn geld op te halen is tevens de dag dat de bank zijn deuren moet sluiten en de flappentap geen flappen meer tapt.


Een van de redenen dat ons financiële systeem mogelijk gaat omvallen zit in de complexiteit van de handel in afgeleide producten (deze materie is ingewikkeld maar voor de beeldvorming: een optie op een aandeel is een voorbeeld van een 'afgeleid' product). Deze ondoorzichtige markt van 'afgeleide producten' schijnt inmiddels groter te zijn dan die waarop deze gebaseerd is.
Hoe deze markt precies werkt weet ik niet (weet iemand dat wel?) maar het komt er in elk geval op neer dat alles in de financiële wereld door middel van een ingewikkeld web aan elkaar hangt. Een particulier leent geld van een bank voor een hypotheek, de bank brengt deze lening onder bij een Hedge Fund, het Hedge Fund verwerkt dit in een complex financieel product, etc.
Een web waarin alles met elkaar verbonden is, werkt een beetje zoals Domino Day. Als de eerste dominosteen valt dan… Juist ja!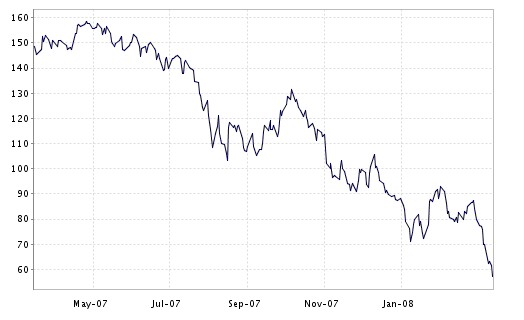 In de VS is deze week de eerste dominosteen omgevallen, namelijk top-vijf-zakenbank Bear Sterns.
Het grafiekje van Bear Sterns ondersteunt mijn opmerking dat er geen enkel verband meer is tussen de financiële waardering (volgens de beurskoersen) van een bedrijf en de economische realiteit. De waarde van Bear Sterns daalde van bijna 160 dollar naar 2 dollar per aandeel (waar de bank deze week voor verkocht is). Een waardedaling van bijna 99% in een jaar tijd! En niet voor een risicovol hightech Willie Wortel-bedrijf maar voor een 'saaie brave zakenbank'.


Een werknemer van Bear Sterns meldde in het journaal nog even fijntjes dat ook de financiële wereld het overzicht aardig kwijt is.
'Er circuleert 750 biljoen dollar aan zeer complexe financiële producten die niemand echt begrijpt en waar niemand echt grip op kan krijgen.' (1 biljoen = 1.000.000.000.000, ofwel een miljoen miljoenen)




Moslimfundamentalisme


Onheilsprofeet: velen (waaronder nu - zeer actueel - Geert 'Fitna' Wilders).


Veel zichzelf serieus nemende godsdiensten staan niet al te tolerant tegenover andere denkbeelden. Of zoals cabaretier Hans Teeuwen dat mooi formuleerde in het TV-fragment van 2007: 'Gelovigen hebben de neiging een monopolie op de waarheid te hebben.'
Zelfs als niet-gelovige (of eigenlijk agnost: niet wetend) kan ik me bij deze intolerantie wel iets voorstellen. De vrijheid van godsdienst waar Jan-en-alleman zelf een mening kiest over wat waar is, is vanuit mijn Nederlands perspectief natuurlijk prima.
Maar als je de enige echte waarheid kent (of denkt te kennen!?) dan getuigt het natuurlijk van een zekere slapheid om alle andere 'onwaarheden' zomaar voor lief te nemen in het kader van 'ieder zijn eigen geloof / mening'.


Fundamentalisme op basis van godsdienst is op zich niets nieuws. Het Christendom heeft met de kruistochten ook haar steentje bijgedragen. En nu is het moslimfundamentalisme met bijhorend terrorisme de actuele dreiging. Wat wel veranderd is, is dat de wereld een stuk kleiner is geworden. En er is volop moderne techniek voor massavernietiging beschikbaar. Met paard en zwaard is de bekeerklus nu eenmaal groter dan met nucleaire wapens.


De hele integratieproblematiek als gevolg van globalisering en immigratie stemt mij niet optimistisch. De dierentuin is daarvoor een mooie metafoor. Zolang alle dieren keurig in hun eigen kooi (lees: land) blijven is er niets aan de hand. Maar als je alle kooien openzet wordt het chaos, en zal volgens darwinistische principes de sterkste overleven.

De instabiliteit die de vermenging van verschillende geloven en ideologieën met zich meebrengt zal naar mijn verwachting ook 'onze' cultuur en Nederland nog behoorlijk kunnen gaan raken. De ophef en angst die er nu al is over een film die nog niemand gezien heeft, is daarvan een aardige voorbode.




Het bijenmysterie
Onheilsprofeet: Albert Einstein, imkers wereldwijd.
De mysterieuze terugloop van de bijenpopulatie begon in de VS en heeft inmiddels ook Europa in de greep. Imkers melden een 'bijenverlies' van 30-70% waarbij de bijen op onverklaarbare wijze niet meer terug keren naar hun korf. De grote vraag is: waarom? Op Internet zijn hierover meerdere theorieën te vinden waarbij de straling van mobiele telefoons voorlopig de meest gangbare verklaring is.
| | |
| --- | --- |
| De laatste bijen... Foto: Mateusz Atroszko | |
Los van de oorzaak: De rol van de bijen in ons ecosysteem is volgens deskundigen cruciaal.
Zo meldde Albert Einstein dat de mens nog maar 4 jaar te leven heeft als de bijen zijn uitgestorven. En nu de bijen het loodje dreigen te leggen in 2008, kom ik met nog 4 jaar erbij uit op: 2012!
I rest my case…


Meer info: Bijen in Nood




En nu: het lezingencircuit
Met dit artikel zet ik mijzelf natuurlijk direct op de kaart als nieuwste onheilsprofeet. In die rol ben ik vanaf vandaag natuurlijk te boeken in het lezingen- en sprekerscircuit. Het liefst in de stijl van Al Gore, dus met flink wat internationale snoepreisjes naar exotische locaties (mijn achtertuin is net opnieuw beplant dus ik hoop dat daarmee de noodzakelijke CO2-uitstoot van mijn reizen gecompenseerd wordt). Tarief: notk.


Als je als profeet alleen maar slecht nieuws brengt is dat natuurlijk wat slapjes. Nu heb ik een wereldwijde oplossing zo 1, 2, 3 niet beschikbaar, maar op kleine schaal is er wellicht redding mogelijk.
Ik voel er zelf wel wat voor om een hippie-achtige leefgemeenschap te creëren die zich vestigt op een idyllisch bounty-eiland. Een leuke groep mensen die in een klein gesloten ecosysteem in volstrekte harmonie met de natuur gaat samenleven. Een beetje zoals in de film The Beach maar dan wel met goede medische voorzieningen, Internet, drive-in bioscopen en speedboten. Discipelen die zich willen aanmelden als volgeling voor deze missie zijn welkom.


En tot slot: voor degenen die niet meegaan naar 'mijn eiland*' nog een hart onder de riem:
Het einde van de vijfde wereld waar de Maya's over spreken is in feite geen einde maar een nieuw begin. Het begin van een Nieuwe Wereld gebaseerd op liefde, vrede en overvloed: de rups transformeert naar een vlinder. Alleen zal deze overgangsperiode naar de Nieuwe Wereld helaas veel onrust en problemen kennen.
*Om het op mijn eiland een beetje gezellig te houden, zal ik uiteraard een ballotagecommissie in het leven roepen. Op de Ark van Noach kon tenslotte ook niet iedereen mee.